Newer posts are loading.

You are at the newest post.
Click here
to check if anything new just came in.
March
04
2015
What Might Cause Achilles Tendonitis Suffering ?
Overview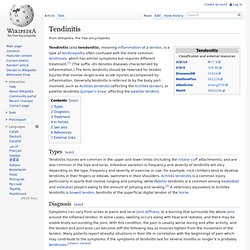 Achilles tendonitis is one of the most common running injuries. The achilles tendon is the large tendon at the back of the ankle. It connects the calf muscles made up of the gastrocnemius and soleus to the heel bone or calcaneus. It provides the power in the push off phase of walking and running where huge forces are transmitted through the achilles tendon. Achilles tendonitis is often now referred to as achilles tendinopathy. This is because the term tendinopathy covers all types of overuse achilles tendon injury. Strictly speaking tendonitis suggests an inflammatory condition of the tendon but in reality few achilles tendon injuries are actually down to pure inflammation. Soleus muscleThe main finding, particularly in older athletes is usually degeneration of the tissue with a loss of normal fibre structure. Other very similar conditions may actually be due to inflammation or degeneration of the tendon sheath which surrounds the tendon rather than the achilles tendon itself. In addition to being either chronic or acute, achilles tendonitis can also be at the attachment point to the heel called insertional achilles tendonitis or in the mid-portion of the tendon typically around 4cm above the heel. Healing of the achilles tendon is often slow, due to its poor blood supply.
Causes
In some cases, Achilles Tendinitis can be caused by physical activity without a proper warm up or trauma, such as falling, to cause an overstressing of the muscle and tendon. Other causes include repetitive overuse syndrome, such as a job that required frequent heel lifting. Biomechanical causes such as pronation (or fallen arches) will cause the heel (calcaneus) to lean slightly, putting the undue stress on the Achilles tendon and the calf muscles. Most pain can be felt at the back of the heel or the point at which the calf muscle becomes a tendon three quarters of the distance down from the knee. Discomfort can be felt especially when jumping or when lifting the heel off the ground. Swelling and redness can often be seen at the back of the heel and touching the area would cause a tender sensation. In extreme cases, the tendon can become torn or rupture entirely which would cause bruising or an inability to put pressure on the foot.
Symptoms
Symptoms of Achilles Tendinitis include the following. Pain and stiffness along the Achilles tendon in the morning. Pain along the tendon or back of the heel that worsens with activity. Severe pain the day after exercising. Thickening of the tendon. Bone spur (insertional tendinitis). Swelling that is present all the time and gets worse throughout the day with activity. If you have an Achilles tendon rupture, you might feel a pop or snap, accompanied by a sharp pain behind your ankle. You are likely to have difficulty walking properly. If you have ruptured your Achilles tendon then surgery is likely to be the best treatment option.
Diagnosis
Laboratory studies usually are not necessary in evaluating and diagnosing an Achilles tendon rupture or injury, although evaluation may help to rule out some of the other possibilities in the differential diagnosis. Imaging studies. Plain radiography: Radiographs are more useful for ruling out other injuries than for ruling in Achilles tendon ruptures. Ultrasonography: Ultrasonography of the leg and thigh can help to evaluate the possibility of deep venous thrombosis and also can be used to rule out a Baker cyst; in experienced hands, ultrasonography can identify a ruptured Achilles tendon or the signs of tendinosis. Magnetic resonance imaging (MRI): MRI can facilitate definitive diagnosis of a disrupted tendon and can be used to distinguish between paratenonitis, tendinosis, and bursitis.
Nonsurgical Treatment
Initial treatment consists of medication and ice to relieve the pain, stretching and strengthening exercises, and modification of the activity that initially caused the problem. These all can be carried out at home, although referral to a physical therapist or athletic trainer for further evaluation and treatment may be helpful. Occasionally a walking boot or cast may be recommended to immobilize the tendon, allowing the inflammation to settle down. For less severe cases or after immobilization, a heel lift may be prescribed to reduce stress to the tendon. This may be followed by an elastic bandage wrap of the ankle and Achilles tendon. Orthotics (arch supports) may be prescribed or recommended by your physician. Surgery to remove the inflamed tendon lining or degenerated tendon tissue is rarely necessary and has shown less than predictable results.
Surgical Treatment
In cases of severe, long-term Achilles tendonitis the sheath may become thick and fibrous. In these cases surgery may be recommended. Surgery aims to remove the fibrous tissue and repair any tears in the tendon. A cast or splint will be required after the operation and a recovery program including physiotherapy, specific exercises and a gradual return to activity will be planned.
Prevention
Stay in good shape year-round and try to keep your muscles as strong as they can be. Strong, flexible muscles work more efficiently and put less stress on your tendon. Increase the intensity and length of your exercise sessions gradually. This is especially important if you've been inactive for a while or you're new to a sport. Always warm up before you go for a run or play a sport. If your muscles are tight, your Achilles tendons have to work harder to compensate. Stretch it out. Stretch your legs, especially your calves, hamstrings, quadriceps, and thigh muscles - these muscles help stabilize your knee while running. Get shoes that fit properly and are designed for your sport. If you're a jogger, go to a running specialty store and have a trained professional help you select shoes that match your foot type and offer plenty of support. Replace your shoes before they become worn out. Try to run on softer surfaces like grass, dirt trails, or synthetic tracks. Hard surfaces like concrete or asphalt can put extra pressure on the joints. Also avoid running up or down hills as much as possible. Vary your exercise routine. Work different muscle groups to keep yourself in good overall shape and keep individual muscles from getting overused. If you notice any symptoms of Achilles tendonitis, stop running or doing activities that put stress on your feet. Wait until all the pain is gone or you have been cleared to start participating again by a doctor.