Newer posts are loading.

You are at the newest post.
Click here
to check if anything new just came in.
Achilles Tendinitis
Overview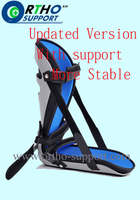 Achilles tendonitis is a condition wherein the Achilles tendon, at or near its insertion to back of the heel, becomes inflamed and causes pain. The Achilles tendon is one of the longest and strongest tendons in the body. It is avascular (not supplied with blood vessels) so it can be slow to heal. The Achilles tendon is formed in the lower third of the leg. Two muscles join to form the Achilles tendon, the Gastrocnemius and the Soleus which are commonly referred to as the calf muscle. The Achilles tendon works as an anti-pronator which means it helps to prevent the foot from rolling inward.
Causes
Although a specific incident of overstretching can cause an Achilles tendon disorder, these injuries typically result from a gradually progressive overload of the Achilles tendon or its attachment to bone. The cause of this chronic overload is usually a combination of factors that can put excess stress on the tendon: being overweight, having a tight calf muscle, standing or walking for a long period of time, wearing excessively stiff or flat footwear, or engaging in significant sports activity.
Symptoms
Gradual onset of pain and stiffness over the tendon, which may improve with heat or walking and worsen with strenuous activity. Tenderness of the tendon on palpation. There may also be crepitus and swelling. Pain on active movement of the ankle joint. Ultrasound or MRI may be necessary to differentiate tendonitis from a partial tendon rupture.
Diagnosis
Laboratory studies usually are not necessary in evaluating and diagnosing an Achilles tendon rupture or injury, although evaluation may help to rule out some of the other possibilities in the differential diagnosis. Imaging studies. Plain radiography: Radiographs are more useful for ruling out other injuries than for ruling in Achilles tendon ruptures. Ultrasonography: Ultrasonography of the leg and thigh can help to evaluate the possibility of deep venous thrombosis and also can be used to rule out a Baker cyst; in experienced hands, ultrasonography can identify a ruptured Achilles tendon or the signs of tendinosis. Magnetic resonance imaging (MRI): MRI can facilitate definitive diagnosis of a disrupted tendon and can be used to distinguish between paratenonitis, tendinosis, and bursitis.
Nonsurgical Treatment
More often than not, Achilles tendonitis can be treated without surgery. However, recovery may take a few months. The following will can help you recover and get back in the game. Rest is always the most important thing when recovering from an injury. Your body needs a break to heal. While taking time off from exercise is recommended, if you just can?t ditch all physical activities, switch to more low-impact ones while you?re recovering. When resting your Achilles, try biking, swimming or using an elliptical machine until you?re fully healed. Icing the injured area of your Achilles tendon throughout the day can help to reduce the swelling and pain. However, try not to ice it for more than 20 minutes at a time. Non-steroidal anti-inflammatory medication is recommended to help reduce the swelling and pain associated with Achilles tendonitis. These include such drugs as ibuprofen and naproxen. While they will reduce swelling, the do not reduce the thickening for the tendon. If you find yourself taking these medications for more than a month, speak with your doctor.
Surgical Treatment
There are two types of Achilles repair surgery for tendonitis (inflammation of the Achilles Tendon), if nonsurgical treatments aren't effective. Gastrocnemius recession - The orthopaedic surgeon lengthens the calf muscles to reduce stress on your Achilles tendon. D?bridement and repair - During this procedure, the surgeon removes the damaged part of the Achilles tendon and repairs the remaining tendon with sutures or stitches. Debridement is done when the tendon has less than 50% damage.
Prevention
Stretching of the gastrocnemius (keep knee straight) and soleus (keep knee bent) muscles. Hold each stretch for 30 seconds, relax slowly. Repeat stretches 2 - 3 times per day. Remember to stretch well before running strengthening of foot and calf muscles (eg, heel raises) correct shoes, specifically motion-control shoes and orthotics to correct overpronation. Gradual progression of training programme. Avoid excessive hill training. Incorporate rest into training programme.